TechBoost!2015 "Light in the nano world"
INVITATION – TechBoost! 2015 – Tuesday April 28, 5PM, UGent Plateau building, Plateaustraat 22, Gent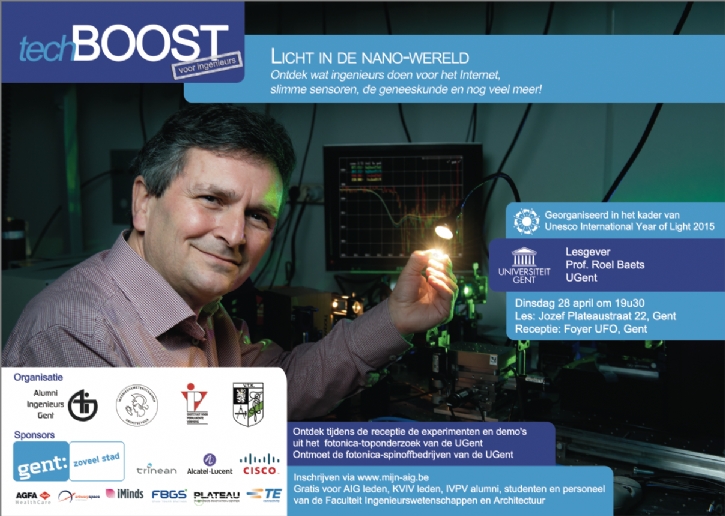 AIG, IVPV and the Faculty of Engineering and Architecture of UGent organize the TechBoost!2015 in collaboration with Plateau – UGent Photonics Innovation Center.
On the occasion of the International Year of Light 2015, TechBoost! will focus on light in the nano world. TechBoost!2015 will again be the place-to-be to get inspired and to network.
TechBoost! – program* (Plateau building)
· 17:00-18:30 "State-of-the-art photonics research at UGent, a selection"
o Photonics Research @ UGent – overview (dr. Ir. Danaë Delbeke)
o Luminescent materials and the lighting of the future (Prof. Philippe Smet)
o Stretchable Photonics (Prof. Geert Van Steenberge)
o Liquid crystals, more than displays (Prof. Jeroen Beeckman)
· 18:30-19:30: sandwiches
· 19:30-21:00: TechBoost keynote talk by Prof. Roel Baets "Light in the nano world"
· 21:00: demonstrations by the UGent photoncs spin-offs and UGent photonics labs and network drink
* all talks will be in English
More information and online inscription
https://tokyoap2.ugent.be/eventManager/events/TechBoost
Sponsors: