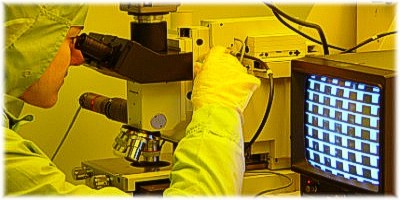 Since June 2004 the processing facilities of the Photonics Research Group are located in the new cleanroom built by Ghent University at the "Technology Centre Zwijnaerde", just outside of the center (see also: How to reach us). The cleanroom has a surface of approximately 1100 square meters, of which the Photonics Research Group can use approximately one third. The focus is on compound semiconductor based devices, both on InP and GaAs substrates. In addition, we work on the fabrication and assembly of micro-optical structures for optical interconnect applications.Below you'll find a short overview of our most relevant equipment. For more details, information or processing requests contact driesvt@intec.ugent.be or steven.verstuyft@intec.ugent.be .
Standard equipment includes:
High resolution photolithography down to 0.6 um linewidth (Karl Suss MA6 & MJB3 maskaligners).
Plasma enhanced chemical vapour deposition of dielectric films (e.g. silicon dioxide, silicon nitride)
Evaporation and sputtering of metal contacts
Plasma etching and Reactive Ion Etching
Deposition of dielectric coatings (AR and HR)
Flip-chip device mounting
Wafer thinning and polishing
Advanced tools include:
An inductively coupled plasma etch system for the fabrication of high-quality deeply etched waveguide structures.
Holographic fabrication of grating structures

Both one and two dimensional grating structures
Using Argon laser
Grating period varying from 250 nm to 2 Ám

Measurement Microscope
Die-to-wafer bonding proces

Suitable for double sided processing (e.g. ring resonators) and for the heterogeneous integration of III-V semiconductor material and silicon circuits ( e.g. SOI research)
Using Benzocyclobuthene (BCB) as intermediate layer
Oxidation of AlGaAs films

For the fabrication of high-vertical contrast optical waveguides
For the fabrication of integrated beam-expanders (PhD Kurt de Mesel)
SEM (JEOL) Jointly operated with the ELIS-department

Laser ablation system

For the structuring of a wide variety of materials
With excimer laser operating at either 193 nm or 248 nm
All MOCVD activities were moved to IMEC Leuven during 2002. III-V substrates for the fabrication of optoelectronic devices are now obtained from other research groups or from commercial wafer fabs.
The photonics research group together with 6 other UGent research groups received a grant from the Flemish government for buying a dual beam FIB (focused ion beam). The FIB arrived in early spring 2005.