Heterogeneous integration of SOI waveguides and III-V active devices
Main Researcher: Gunther Roelkens
Heterogeneous integration of SOI waveguides and III-V active devices combine the advantages of both material systems. SOI waveguides allow high density integrated photonics due to the high omnidirectional index contrast and the small features achievable using deep UV lithography. Active functions like optical amplification and laser action require a direct bandgap material (i.e. InGaAsP/InP).

The bonding of III-V active layers on top of SOI waveguide structures was developed. BenzoCycloButene (BCB) was used as a bonding agent.



Cross section of an SOI waveguide circuit with an InP layer bonded on top
Based on the technological development of BCB bonding an optical coupling scheme was designed based on an adiabatic taper structure, which allows for compact, efficient, large optical bandwidth operation and is tolerant to fabrication errors.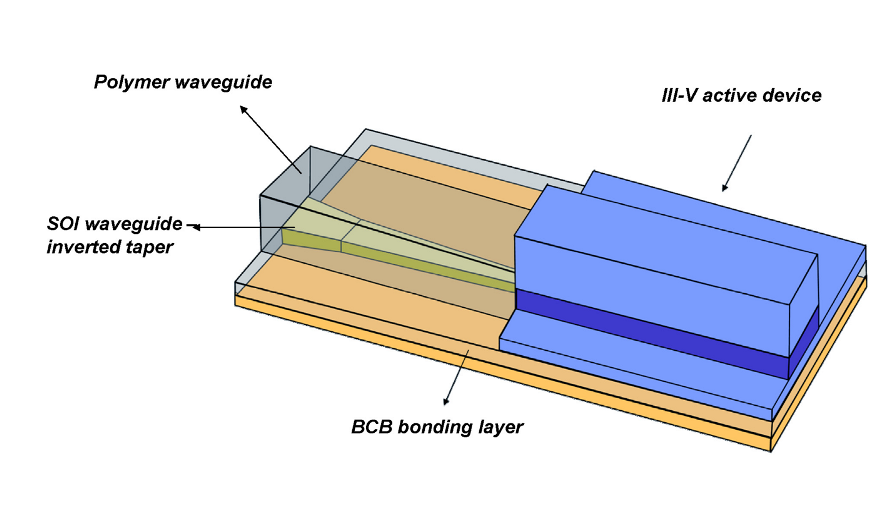 Layout of the coupling between the III-V active device and the SOI waveguide
Devices were fabricated and characterized. Both laser action and photodetector operation was observed. A top view of the fabricated structures is shown.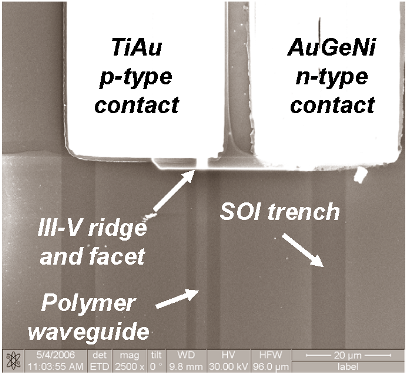 Other people involved:
Related Research Projects
Downloads

(Nano)photonics in Silicon(-on-Insulator)

InP on silicon membrane technology

IPRM08
PhD thesises
Publications
International Journals


Book / Book Chapter


W. Bogaerts, S. Selvaraja, SOI for photonics, (invited) publication in Silicon on insulator (SOI) technology , (to be published).
International Conferences


National Conferences


---
Back to overview