Widely Tunable Twin-Guide Laser Diode
Research Area: III-V Semiconductor Photonic ICs
Main Researcher: Reinhard Laroy
A widely tunable twin guide (TTG) Laser Diode is a two-section TTG laser, in which both sections contain a sampled grating (SG) or a superstructure grating (SSG) with different superperiod. One can therefore make use of the Vernier effect (lasing occurs when peaks from the reflection spectra of both sections overlap) to obtain tuning over a wide range. Current injection into the tuning layer will change the effective refractive index. This change causes a shift of one of the reflection spectra so other peaks overlap and lasing happens at another frequency.

Only two tuning currents are required to obtain full wavelength coverage over a wide tuning range. Its characterisation is therefore substantially less time consuming.
A pi phase shift between both gratings causes the (S)SG-TTG to behave as a quarter-wave-shifted DFB laser for each of the overlapping reflector pairs, such that lasing always occurs at the Bragg wavelength.

The (S)SG-TTG laser has, apart from its simpler tuning scheme, also the advantage that AR-coatings are allowed and even desired at both facets and that it can easily be integrated with semiconductor optical amplifiers to boost the output power. Other advantages are its shorter length and high output power. The complex fabrication is a disadvantage.
SG and SSG-TTG laser concepts were simulated with CLADISS taking the fabrication limits into account. A first set of design parameters was obtained with a tuning range larger than 35nm and a high side-mode suppression. The first prototypes of the SG-TTG lasers demonstrated a wide tuning range (28nm in the picture below) and a high side-mode suppression. Further research and development is needed to obtain full wavelength coverage and a regular tuning behavior.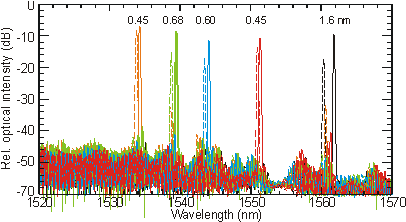 28nm tuning range of an SG-TTG laser (measured by TU Munich)
Other people involved:
Related Research Projects
PhD thesises
Publications
International Journals


International Conferences


National Conferences


R. Laroy, G. Morthier, R. Baets, New widely tunable laser concepts for future telecommunication networks, FTW-symposium, Belgium, (2002) .
---
Back to overview