Silicon Arrayed Waveguide Gratings (AWG)
Research Area: Design and Modeling for Integrated Photonics, Silicon photonics for telecom, datacom and interconnect
Main Researcher: Shibnath Pathak
The operation principle of a conventional AWG is described as follows. A light beam exiting from a suitable waveguide aperture enters into a first free propagation region (FPR) and diverges. This diverging light beam is then coupled in an array of waveguides and propagates through these waveguides to a second FPR. The optical path length difference between two successive waveguides in the array is constant. Therefore, for this center wavelength, the field distribution at the entrance of the waveguide array will be reproduced at its exit aperture. In a perfect system a perfect image of the object plane can then be formed and the field distribution in the image plane will have the same amplitude and phase as the field distribution of the object plane. Obviously, the imaging is never perfect because one uses a finite number of arrayed waveguides and the FPR has a finite numerical aperture. The phase difference in the arrayed waveguides varies with wavelength because of their length difference and the wavelength-dependence of the propagation constant. This phase delay will induce a tilt in the phase fronts in the FPR and introduce a lateral shift of the image field profile. The spectral response of the AWG will therefore be determined by the overlap of this shifted field profile with the mode profile of the different output waveguide apertures located in the image plane. In most AWGs demonstrated in silicon, the geometry of the aperture at the input (object plane) and output (image plane) is identical: this results in a maximal overlap when the shifted image is perfectly aligned with one of the output apertures (i.e. at a given wavelength).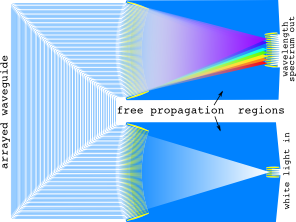 To simulate the AWG we developed a semi-analytical model integrated with our design software (IPKISS). IPKISS is a modular framework: the components are based on parametric cells, which can be reused, modified and portable between the technologies: the technology informations contains the default design rules and fabrication informations based on the foundry. Our model simulates the transmission matrices (T-matrix) of all parts of the AWG using the most suitable method. In our approach we divided the AWG in three parts: two star-couplers (FPR) and the waveguide array.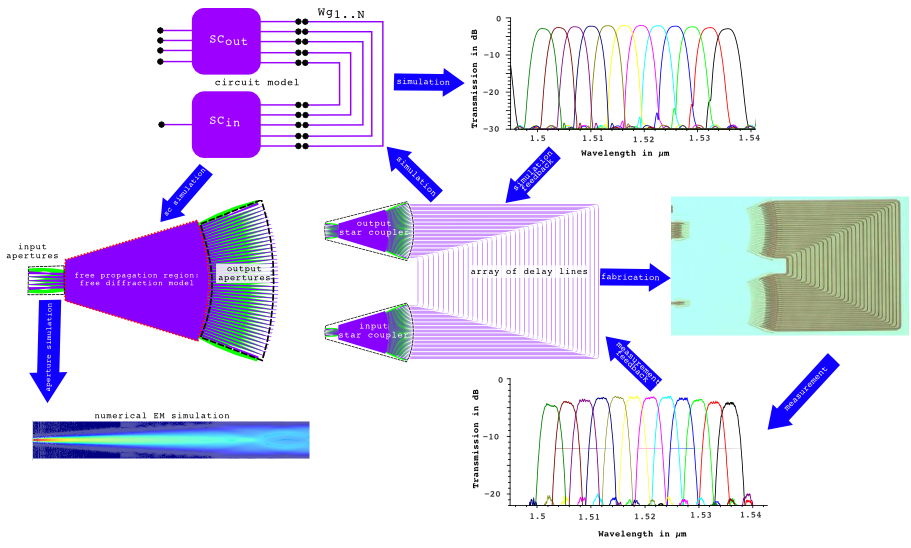 Other people involved:
Downloads

Fabrication and Characterization of High-Optical-Quality-Factor Hybrid Polymer Microring Resonators Operating at Very Near Infrared Wavelengths
PhD thesises
Publications
International Journals


International Conferences


National Conferences


S. Pathak, W. Bogaerts, D. Van Thourhout, Simulation Tools for Silicon Photonic Arrayed Waveguide Gratings., 11st FirW PhD Symposium, Belgium, p.135 (2010) .
---
Back to overview