back to project list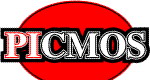 IST: PICMOS
Full Name:Photonic Interconnect Layer on CMOS by wafer-scale integration
Duration: 1/1/2004-31/3/2007 (Finished)
Partners:
IMEC - INTEC(BE)
ST Microelectronics (FR)
CEA (FR)
TRACIT Technologies (FR)
CNRS-FMNT (FR)
NCSR-Demokritos (GR)
TU/E (NL)
Objective:
Demonstrate the feasibility of adding a photonic interconnect layer on top of silicon ICs containing CMOS-circuitry, with the photonic layer created by a combination of wafer bonding and wafer-scale processing steps
INTEC's Role:
Project coordination, development of SOI wiring circuits, development of III-V sources bonded on SOI circuits
Project Web site: http://picmos.intec.ugent.be
People involved
Research topics involved
Publications in the framework of this project (54)
International Journals


International Conferences


National Conferences


J. Van Campenhout, D. Van Thourhout, P. Bienstman, C. Seassal, P. Rojo-Romeo, L. Di Cioccio, J.M. Fedeli, Membrane microlasers for the integration of photonic and electronic Ics, 6th UGent-FirW Doctoraatssymposium, Belgium, p.39 (paper nr. 29) (2005) .
P. Dumon, W. Bogaerts, D. Van Thourhout, V. Wiaux, J. Wouters, S. Beckx, R. Baets, WDM filters in Silicon-on-insulator photonic wires, Doctoraatssymposium Faculteit Toegepaste Wetenschappen, Belgium, (2004) .
---
Back to project list