Reconfigurable Photonic Circuits
Research Area: Large-scale Photonic Integration
Main Researcher: Wim Bogaerts
Photonic integrated circuits today resemble the very specialized application specific integrated circuits (ASICs) rather than general-purpose CPUs or highly flexible field programmable gate arrays (FPGA). Still, reconfigurable optical circuits could dramatically reduce the time to application or prototype a new optical chip.

Optical FPGA.
Flexibility can be added to photonic chips by including control layers, such as electronics for detectors readouts and actuator, and software to control that integration on top of the standard, out of the shelf, photonics components. Together the stack of optical components, electronic circuitry and algorithmic control can be used to add flexibility to the design, enabling an FPGA-equivalent approach for optical devices, where its functionality can be defined in operation time.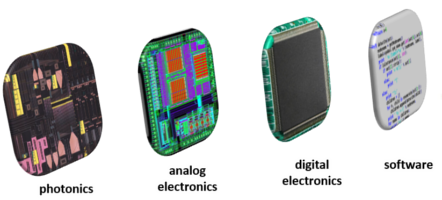 Photonics-electronics-software stack.
A first demonstration shows a circuit performing distinct functions based on programming the device. The figure bellow shows the evolution of the power at the output of the circuit during its adapting period.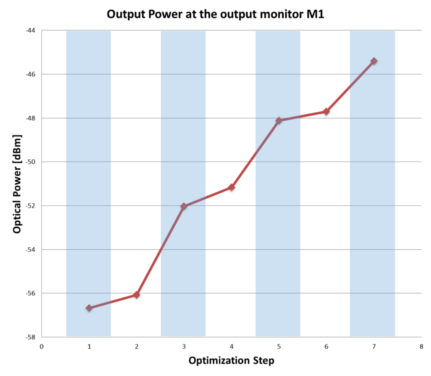 Evolution of the power at the output of a self-adaptive circuit operating a beam coupling function, guiding the light from itas all four inputs to one output.
Other people involved:
Related Research Projects
Publications
International Journals


A. Ribeiro, W. Bogaerts, Digitally controlled multiplexed silicon photonics phase shifter using heaters with integrated diodes, Optics Express, 25, (2017) .
A. Li, W. Bogaerts, Fundamental Suppression of Backscattering in Silicon Microrings, Optics Express, 25(3), p.2092-2099 (2017) .
A. Ribeiro, A. Ruocco, L. Van Acker, W. Bogaerts, Demonstration of a 4x4-port universal linear circuit, Optica, 3(12), p.1348-1357 (2016) .
International Conferences


---
Back to overview